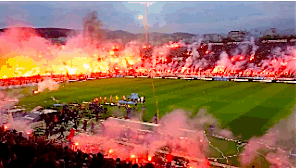 During this gameweek our 2 transfers will be used initially for banned or injured players.
In the round of 8 we'll have again 5 transfers but these will not be enough to replace everyone, so keep an eye for the teams already qualified or disqualified (e.g. in case for any reason you have players form Porto or Besiktas you can get rid of them).
In general it is a very difficult gameweek as many teams have already qualified and there is no reason to invest in anyone else just for 1 match.
You can also have a look in our analysis for the first leg of this round:
https://fantasyopliktos.blogspot.com/2018/02/uefa-round-of-16-first-leg.html
Let's start analyzing each day.
Tuesday 6 March 2018
-Real Madrid has nothing else to care. These matches are Real's entire season now.
-Neymar is injured
-Most probably Real has already qualified, so pick someone for the rest of the tournament (CR7, Casemiro)
-If you still believe that PSG can qualify go for Di Maria
-Liverpool has already qualified and the risk of rotation is here. Else we would pick TAA, Can, Salah.
Wednesday 7 March 2018
-Man. City will focus on a European title during the next months however they have already qualified
-A reasonable suggestion is to pick players who will play during this match but also in the next ones, like
Jesus, Ederson, Gundogan, Laporte
-From Tottenham our suggestions are
Kane, Davies
, although this is a difficult match to predict.
Tuesday 13 March 2018
-Shakhtar can score and qualify. Our suggestion is
Marlos
.
-From Roma we would pick
Under.
-Mourinho has the experience to qualify. We'll go for
Lukaku, De Gea, Lingard, Smalling, Pogba
-Our suggestions are Kimmich, Alaba, Lewa, James, Coman for the next matches of the tournament
-From Barcelona we'll always suggest
Messi
(for the next rounds also).