Meet Doc Daneeka. Doc is a Fantasy Football player. He has been playing any kind of Fantasy Football since he started watching football.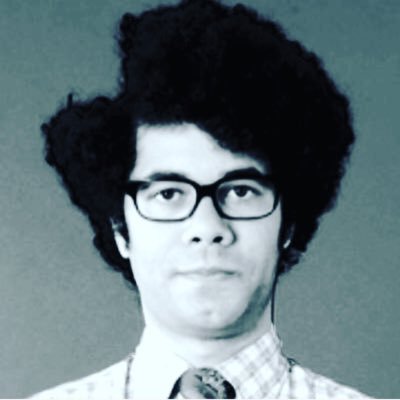 At first, he enjoyed picking his favorite players and stacking them in overall leagues. Doc spent his school years trying to convince his friends to play, but they were too obsessed with girls and actual football. Little nitwits -they were missing
some
fun.
When he went to university, he found out that there were students with similar interests-from philately to football. Fantasy football was eventually brought up and now Doc could renew his old passion. He enthusiastically entered a new league -but this time it would actually be exciting; he could banter with his friends and beat them- after all it was his game! So many years of watching football and playing by himself were about to pay up.
Alas, this was not the case for poor Doc. It turned out most of his friends, who also watched football -and even some who didn't- would beat him easily, week in-week out.
Doc finished his studies and got a job. An uninspiring yet highly paying job in the private security sector. There, between shifts and in review meetings, he would make new acquaintances that turned to friends. Friends with similar interests and who would joke with him. Again, eventually, Fantasy football was brought up. Everyone seemed to be so excited about it, but it was old news for him, a seasoned Fantasy Football player. He begrudgingly admitted to playing, so he entered yet another league. This time he was really going to work on it. This time he would study meticulously, he would survey all statistics and conclude to the best choices only.
It was yet another catastrophic failure for old Doc. His morale -just like his players' value would plummet and there was nothing he could do to improve his situation but plead ignorance. He started using excuses like "I missed the transfer deadline" or "I quit playing some weeks ago" just to get away from being picked on.
By chance, just before last season's kickoff, Doc found about "anti.football". He giggled inititially and read through, expecting to read an analysis of Greece's win of Euro 2004, but was surprised by what he read.
The great Llama was calling him. It was a ray of life. The sun shone and birds chimed. He was not alone.
It looked like there were more people like him after all! This was his game. Years after years of complete and utter failures lead him to this exact moment. This was tailor-made for him.
Without further ado, directly from Doc's notepad, we bring you the best anti.football top-11 choices!
Picks #1 & #2: The Safe & Easy Choice(s)
Every gameweek, there is this one match standing out. The team that just calls for a thrashing. Mind you, this is not always the David v Goliath match -as the recent Spurs v Swansea taught us-.
Not a good record at Old Trafford either
Arsenal have conceded 14 goals from Liverpool in their last 4 matches. Just saying like. This team should provide you two players. Preferably GK and DC
Pick #3: The yellow Choice aka "The Mascherano"
"Mascherano" is your go-to guy. The fella that never fails. The bloke who simply gets things done.
A football match without a Mascherano booking was not a football match
It is useful to have players like Javier because you now that sooner or later they will deliver. Their temper is uncontrollable and you -the master puppeteer- play this card in your favour (and it's yellow!).
Pick #4: The Derby County Choice
Derby County holds the record for most goals conceded in a single season with 89 during the 2007/08 season. This averages to a staggering 2.34 per game that exactly what you should aspire to get.
"Hey! What about me?"
The starting center half of
your
Derby County. The linchpin of your squad. The cornerstone of your armada is hollering to get him. Get him and you'll never look back again.
Pick #5: Your Significant Other's Choice
Once you've picked 4 out of 5 defenders, you remove the #1, #2 and #3 fixtures and ask from your girlfriend, boyfriend or mum to tell you the team that will concede the most from the remaining fixtures.
Every week there is one team on the receiving end of a spanking that is totally unexpected. This strategy gives you the voice of an independent observer and removes any bias that you have by "being an expert" - or claiming to be. Mind you, in most of our cases, these selections turn out to be total bargains, making us question what the hell are we doing.
Pick #6: The Red Choice aka "The Vinnie Jones"
The Vinnie Jones. Nuff said.
Vinnie was sent off 12 times in his career and holds the record for the fastest booking (3 seconds) in a football match. In his autobiography, reminiscing about this -allegedly- late challenge, he recalls: "I must have been too high, too wild, too strong or too early, because, after three seconds, I could hardly have been too bloody late!"
Pick #7: The Juan Mata Choice
Every manager has an obsession that we cannot deeply comprehend. We sometimes do not understand why a specific is always coming in at a specific time, or why is it always a specific starter that always comes out around the 60-minute mark. More often than not, it is a midfielder.
Take Juan Mata for example. This season he has absolutely no involvement in any of 16 Manchester United goals in 5 matches and has been subbed in every single match. Come to think of it, this is the reason he is being subbed off. Good job Jose!
Pick #8: The Expendable Choice
This is wear we let you roam free. Fantasy leagues, at the end of the day, are about guts and inspiration. Statistics and calculations win you points.
"I want these players. Now."
Instinct wins you championships.
Pick #9: The Butterfly Effect Choice
"In chaos theory, the butterfly effect is the sensitive dependence on initial conditions in which a small change in one state of a deterministic nonlinear system can result in large differences in a later state."
In layman's terms, what we are looking for, is an event -unrelated to football- that might affect our player's performance.
He also owns a coffee house in Belgium
A prime example of this is Vincent Kompany, whose entrepreneurial ventures went haywire a couple of years ago. By default, we should be looking for a Striker who might be affected by the chaos theory as they are the most psychologically vulnerable players.
Pick #10: The Solskjær Choice
Strikers can be the bread and butter of your anti.football squad. Those who may be costly and are always being subbed in but rarely deliver the goods.
Sometimes, -and specifically in Gunnar's case- you may get it wrong. But in the long term, this is a strategy that pays dividends.
Pick #11: The Chelsea-era Torres Choice
This, my friends is your anti.football differential. Most players tend to pick players biased by their history and fame rather than current, actual form.
When Chelsea signed Torres, nobody would have touched him for his anti.football team. It is exactly, however the kind of player that can earn you trophies as he's highly priced, bound to take part in all his fixtures and does not deliver.
Putting it all together
After careful consideration, Doc has his perfect 11 all set up.

There it was. His anti-football dream team for GW6.